Breakfast, Lunch and Dinner at the BSFZ
The BSFZ has a canteen where meals are offered in a buffet form. In order to receive breakfast, lunch and/or dinner, this must be booked and paid for in advance within the online registration.
Breakfast: from 7-9 am.
Lunch: 11:30 am, 12:15 am, 1 pm, 1:45 pm
Dinner: 5 pm, 5:45 pm, 6:30 pm
For lunch and dinner, an individual time slot must be selected.
We ask you to comply with them. We ask you to comply with them, because if you are late, we can not guarantee seating for you.
Other food options at the BSFZ
Small meals and snacks are available in the Sportler-Café without pre-order.
Surrounding Area
In the vicinity of the BSFZ there are some supermarkets (Billa, Hofer …) as well as ATMs and other shops (SCS = Shopping City Süd).
---
Afterparty
There will be afterparties on Thursday-Saturday in the grounds of the BSFZ, during which there will be the opportunity to buy food and drink on site.
Vegan options are available!
Please note, whereas on Thursday and Friday, the afterparty refreshments can purchased on the day using cash, the buffet on Saturday evening is only available when pre-booked and paid for during online registration.
Thursday & Friday (9:00pm)
On Thursday rolls with various fillings (e.g. Schnitzel) and pretzels will be available for purchase after dancing, and on Friday we will be offering pizza.
These afterparty refreshments on Thursday and/or Friday must be paid for in cash on the respective evening.
DJ Marc Willand will entertain us on both days. He offers a great repertoire. For us he will focus on music from the Eighties, Nineties and on modern hits.
Furthermore for Friday singer Michelle prepared some special songs for us.
Saturday (09:30pm)
For the afterparty on Saturday a barbecue (incl. vegan option) is planned. Included in the price is an "all-you-can-eat" buffet and soft drinks.
Don´t forget: The Barbecue must be booked and paid for within the Online-Registration!
At the main afterparty on Saturday, July 9, a one-man band will play various types of music for you. "Helimusic" is booked for you from 10pm to 1 am. Do there are three hours of fun, swing and dancing waiting for you while you enjoy the barbecue or other delicious offerings.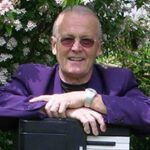 Night Rounds
On Thursday, Friday and Sunday there will be "Night Rounds" after the official programme in the late evening and maybe even later in the Round-Hall – organized by the Karolina Dancers from Bratislava. Tapes will be played, and you are welcome to bring your own USB-stick with cued versions. Everything from Phase II is possible.
Wine-Selling
There will be a wine-seeling at the afterparties on Thursday, Friday and Saturday (Barbecue). Winemaker Franz Egger will offer white wine from 2021 and a red one from 2020.