A visit to an orginal Heurigen without touristtrap? The best place is the village Perchtoldsdorf, which is about 5 km from the Convention. Currently open "Heurige" can be accessed via the website. Or simply stroll through Perchtoldsdorf and choose one.
Baden is a spa town which is famous for its medicinal spring. The Romans already bathed here and later the Austrian emperors and aristocrats. Ludwig van Beethoven also liked Baden and spent several summers here and enjoyed the healing powers of the baths.
Beethoven-House
We recommend a visit to the small Biedermeier house in the city center, where Beethoven was working on his 9th symphony in the summer of 1823.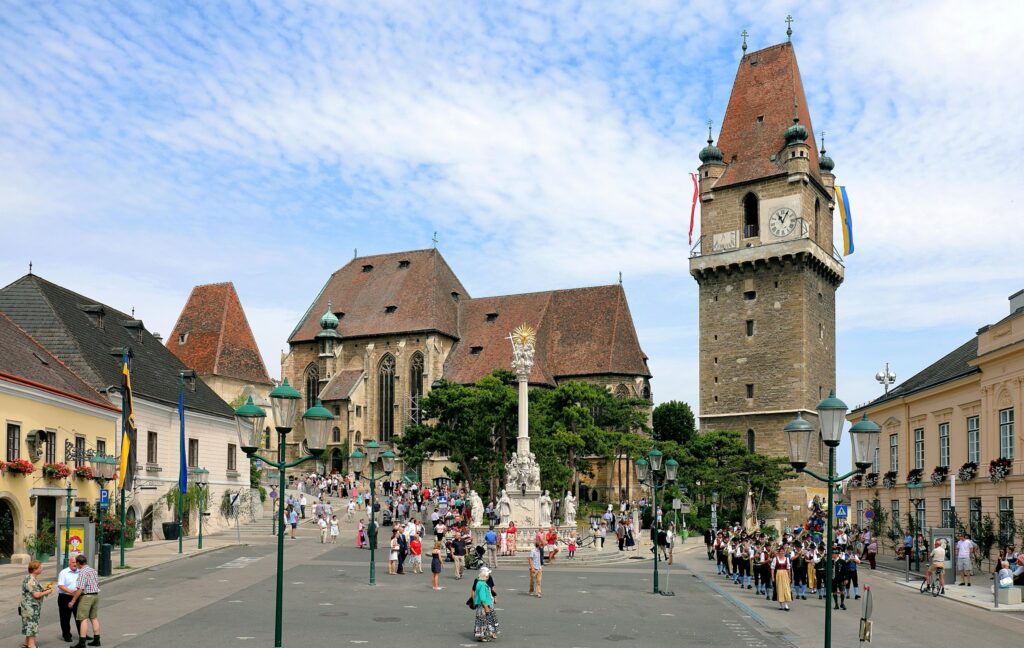 Today his apartment gives a small but fine glimpse into the Biedermeier world. There are also numerous audio samples of his compositions and a presentation of his "Ninth" that is worth seeing and hearing in a listening laboratory with 4 screens.
La Gacilly Festival
Since 2018 there has been an open-air photo exhibition in Baden from June to October, in which oversized photos are presented on the houses of the city and in the gardens. Entry to the largest outdoor photo festival in Europe is free and well worth a visit.
World Heritage Wachau
The 35 km long Danube valley between Melk and Krems was added to the list of World Heritage Sites in 2000 with the old town of Krems and the Göttweig Abbey and Melk Abbey in the "Cultural Landscape" category.
The archaeological finds of the Venus von Willendorf and the Venus vom Galgenberg with an age of over 30,000 years both come from the Wachau and are among the oldest known Venus figures worldwide.
Both can be seen in the Natural History Museum in Vienna. Located across from Krems, the beautiful Benedictine Abbey of Göttweig offers a panoramic view of the Wachau with vineyards and the Danube from its terrace.
Dürnstein
The Wachau town of Dürnstein, about 10 km from Krems, is well worth a visit. The English King Richard the Lionheart was once imprisoned there at the castle. Panoramic view of the Wachau from the castle and the "Welterbesteig" hiking trail.
Klosterneuburg
Is a nice town between the Danube and the Viennese forest in the north of Vienna. The Abbey is a twelfth-century Augustinian monastery. There is a camp ground and recreation area within the Danube wetlands and some "Heurigen" to enjoy regional wine.